New Processor
We have just placed in service a
new processor that
will handle components up to
7 ft 6 in long x 24 in wide
If you are looking for a one stop shop to do your
Machine work and Cryo on the side.
That is not us.
We only do Cryogenics and we do it right
However we do have contact with other
local facilities that can provide any service
you might need.
Call for further info.
* * * * * * * * * * * * * * * * * * * * * * * * * * *
New Technology is hard to sell
See Short Story below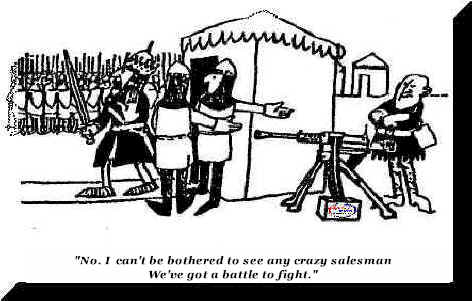 Sad but true..... He lost !!
You either keep up, or fall behind..
Cryogenic enhancement is used routinely in a wide variety of fields from some of the largest manufacturing companies to the residential hobby user throughout the U S and Canada with tremendous results.
There are four basic forms of cryogenic treatment.
1. Shallow cryogenics subjects the component to temperatures of approximately -120 degrees F (Fair)
2. Submerged Wet Method: Components are placed in a chamber then the chamber is flooded with a liquid cryogen. (This can thermally shock components.) (Poor)
3. Dry Deep cryogenic treatment subjects the component to temperatures of approximately -300 degrees F. (Good)
4. Thermal Cycling uses the benefits of Dry Deep cryogenics with additional temperature manipulations during the process. (Best)
Performance Cryogenics' Custom Thermal Cycling process utilizes 72 different computer controlled profiles to provide the "best" results for each component to be processed. (Different materials require different types of heat-treating; the same thing also applies to cryogenic thermal cycling.) The proper profile selection is determined by the type of material, the desired results and the volume to be processed. Our processes are computer controlled providing an accurate and repeatable process and also insures that the thickest cross section of material receives total treatment right down to the CORE.
To achieve the most effective processing, proper circulation is of the utmost importance. We have evaluated, using computer modeling, various Cryogenic processors and have designed our own unit. We elected to use the Rectangle (box) shape thus providing the most effective volume. In doing so we sacrificed a small amount of through the wall thermal efficiency in exchange for proper circulation. This small loss in thermal efficiency in no way has any adverse effect on the quality of the thermal processing of the components. Our Cryogenic Processor has the most efficient and complete circulation on the market. Circular tank processors have good through the wall thermal efficiency however... circulation is limited.
We have also developed an R&D unit that can be configured to accommodate many different types of testing and special purpose profiles. If the customer desires, unlimited test point instrumentation can be fed into the unit for real time data. This unit also has special porting that will allow various extreme operations to be conducted during the process.
Vibration robs horsepower and torque Custom Thermal Cycling significantly reduces or eliminates damaging high frequency and harmonic vibration in metal components during operation. Processed components have shown an improvement in life expectancy as high as 300% with drastic reduction in micro cracking.
The uniqueness of our Custom Thermal Cycling is that it greatly reduces the time necessary to complete the process thus making it more cost effective. The older generation of Cryogenic processing is very time consuming and not cost effective.
Our Custom Thermal Cycling is a precise computer controlled operation throughout the entire cycle and includes a mild heat cycle, used on many materials, to complete the process. Our Cryogenic process is a one time process, not a coating or surface treatment that can be machined or wear away. It will not it make the component more brittle or change its physical size.
Our processing controllers are uniquely designed to allow the customer, if desired, to specify their own parameters and we will provide a graph of their process.
Thermal Cycling enhances the component by converting the soft grain structure (Austenite) into a stronger, more stable grain structure (Martensite). This tighter grain structure is disbursed uniformly throughout and will provide a better component by increasing the resistance to wear and drag. Machine cutting tools stay operational longer and the sharpening process requires less grinding.
Performance Cryogenics is ready to service all levels and types of industry with equal dedication and attention to detail. Customer confidentiality is protected to ensure that our clients maintain the competitive edge they have worked so hard to obtain.
We are a family owned business having had former industrial manufacturing and racing experience we have a deep understanding of our customers needs which enables us to achieve the results they demand. We pride ourselves with dedicated personal service and rapid turn around at affordable rates.
After all, having the best overall performance possible is the name of the game in any competition. Quality components will give You the Edge in this highly competitive world.
Anything that wears is a candidate for Custom Thermal Cycling and a money/time saver for you and your company.
Custom Thermal Cycling can be performed on components at any time, from billet to finished product. However, if heat-treating is required it must be done first.
| | | | |
| --- | --- | --- | --- |
| Machine Shop | Racing & Auto | Sportsman | Sewing |
| Tool Steel | Brake Rotors | Gun Barrels | Shuttle Bobbins |
| Drill Bits | Valve Springs | Pistol Frames | Blended Wool Needles |
| Milling Tools | Heads | Knives | Cut Off Knives |
| Taps & Dies | Rods | Bows & Arrows | Slitter Knives |
| Reams | Cams | Racquet Strings | Tape Cutters |
| Broaches | Flywheels | Golf Club Heads | Nylon Drive Gears |
| End Mills | Pressure Plates | Metal Golf Shafts | |
| Gearing | Blocks | Aluminum Bats | Musical |
| Bearings | Trans. Gearing | | Guitar Strings |
| Punches | Sprockets & Chains | Electronics | Drum Sticks |
| Saw Blades | Bearings | Microphones | Cymbals |
| Router Bits | | Cable Connectors | Drum Heads |
| Shaper Heads | | | Brass Instruments |