Why TREAT Golf Clubs?

Cryogenic Custom Thermal Cycling is an incredible scientific breakthrough that transform your current golf clubs into a state-of-the-art, molecularly enhanced, powerhouse. Over the years the Custom Thermal Cycling has been developed into a finely tuned procedure which subjects golf clubs to extreme temperatures over a controlled period of time.
How does it improve my clubs?
When the metal of the Golf Club is exposed to these temperature extremes, the metallurgical characteristics of the club change. Significant dampening takes place. Dampening and vibration of the metal translate into enhanced performance of the club with greater playability and feel.
Will it improve my game?
Absolutely!! Documented dynamic testing shows that drives are significantly increased. Each shot will feel more solid, have improved accuracy and more ball control.
How does it make the ball go further and straighter?
At the precise millisecond the club head comes in contact with the ball, a tremendous amount of energy is released. The major portion of the energy transfers into the ball as flight and the remaining energy is transferred into the club head and up the shaft as vibration. Custom Thermal Cycling not only eliminates shaft vibration, but also reduces lost energy in the twisting of the club head resulting in straighter ball flight.
Test Results
All testing was done using Iron Byron.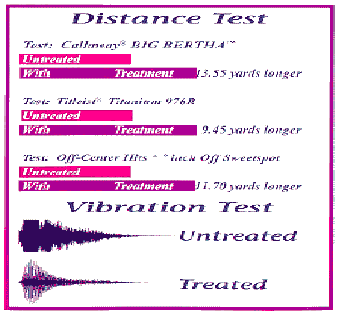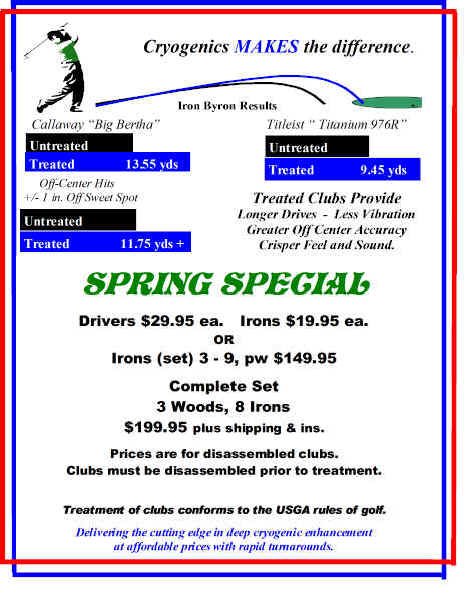 ATTENTION
Golf Teams, Clubs, Pro Shops and Schools
Call for Volume Discounts
Golf club heads are glued onto the shafts. During the Cryogenic Processing the difference in the rate of material expansion / contraction can weaken the bonding of the glue, for your safety
Clubs MUST be disassembled.
Plus shipping and ins.

Email: golf@percryo.com